Retired Documentation: You are using the documentation for version 1.7.3 which was retired in 2013. Go here for the latest version documentation or check here for your available upgrades to the latest version.
My Account
Managing member account information
My Account allows you to edit your own membership account information. You may also edit information for other user accounts via the View Members area of the Control Panel.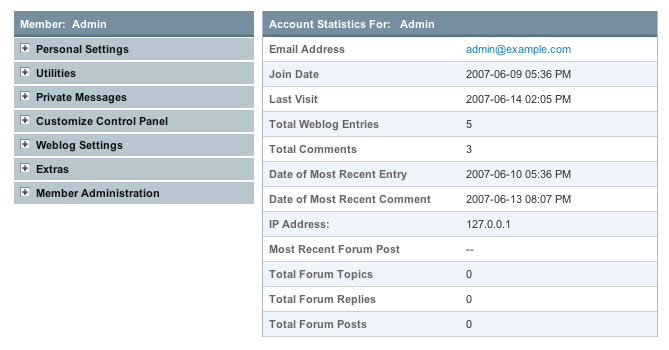 There are a number of areas within the My Account section:
Personal Settings
Edit Your Profile
This page allows you to change the information that is stored in the main profile fields such as Birthday, URL, Location, etc. This page also contains any Custom Profile Fields you may have created.
Edit Signature
Here you can set the signature, which can optionally be displayed with weblog entries, comments, and forum posts. You may style the signature content as you wish.
Edit Avatar
You may select an avatar to associate with your member account. You may choose from among the default avatars or you may upload your own if that ability is enabled under Admin > Membership Preferences.
Edit Your Photo
If the ability to upload Member Photos is enabled under Admin > Membership Preferences, this is where you can upload a photo to be displayed in your member profile area.
Email Settings
You may specify the email address associated with the account as well as preferences related to receiving email. If you are not logged in with a SuperAdmin account, you will need to submit the password associated with the account in order to update these settings. The password is not required when the person editing is a SuperAdmin account.
Username and Password
Both the Username and Screen Name for the account can be changed. In addition, the password can be changed if desired. If you are not logged in with a SuperAdmin account, you will need to submit the password associated with the account in order to update these settings. The password is not required when the person editing is a SuperAdmin account.
Localization Settings
Data displayed on an ExpressionEngine page is determined dynamically for each user viewing the site. Registered users can specify in which time zone they reside as well as their language and time formatting preference. Note that this is information that applies only to this user account. To specify default server settings, use Admin > Localization Settings.
Subscription Manager
View Subscriptions
Here you may view and manage entries and forum threads that you are subscribed to. This page also allows the user to unsubscribe from any of the entries or threads.
Private Messages
Private Messages in ExpressionEngine are similar to being able to send another user an email. In this case, though, they access the Private Message through the EE website and not with an email program.
Bulletin Board
You may read and post Bulletins from this page. Unlike Private Messages, Bulletins do not get sent to each sender, but rather are viewable by all members of the member group(s) designated as recipients. Additionally, Bulletins can have an expiration date, making them ideal for mass communication of time-sensitive information.
Compose New Message
You may create and send a Private Message from this page.
- Inbox
You may access the Private Messages that other members have sent this account.
- Sent
When you send a Private Message to another user, you have the choice of saving a copy of the message in your "Sent" folder. If you do so, you may access those saved copies here.
Trash
Here you may access Private Messages that you have moved to the Trash.
Edit Message Folders
You may create additional folders to help you organize your messages here. You may also delete existing custom folders here.
Buddy List
You may add or remove members from your Buddy List here.
Blocked List
Here you may add or remove members from your Blocked List. This is a list of members from which you will not accept Private Messages.
Customize Control Panel
Control Panel Homepage
This page will allow you to determine which items are displayed on the opening page of the Control Panel. In addition, you may specify the location and order within the page for each item to appear.
Control Panel Theme
Each user may independently choose which "theme" they desire to use when viewing the Control Panel. This page allows them to set that preference from among the available themes.
Tab Manager
This page lets you add custom own tabs to the main navigation of the Control Panel. The tabs you add are viewable only by this user. To add a new tab, first visit the destination page, then click the Add Tab link at the top right of the page. In this section you can manage or remove any tabs you have created.
Weblog Settings
Ping Servers
Every member may specify their own individual set of "Ping Servers". These Ping Servers will appear as options for new weblog entries. By default, these will include the ones specified in the Default Ping Servers area. These can be edited or added to by the user, though.
HTML Formatting Buttons
Each member may also specify their own HTML Formatting buttons. These buttons are available for use when creating or editing weblog entries. By default, these will include the buttons specified in the Default HTML Buttons area. The user may edit or add to the buttons as desired.
Bookmarklet
The Bookmarklet section will allows you to create a customized bookmarklet, permitting you to add entries to your site while browsing the internet.
Extras
Quick Links
Each user may specify custom "Quick Links" for themselves. These links appear at the top of the Control Panel along with the other static links such as "Control Panel Home" and "Logout".
Notepad
The "Notepad" within a member's My Account area can be used to store personal notes, to-do lists, or whatever other information they may desire. It is designed to be a place that the user may store some information that they'll need later.
Member Administration
Member Preferences
Here you can set some administrative options for a given user, like the Member Group they belong to as well as whether the user will appear in the Publish page "Multi-Author list". In addition, you may specify to use a member's localization settings as the default values for the site. In this way, you can specify default localization settings that are different than the actual server settings.
Email Member
Permits you to send the user an email via the ExpressionEngine Communicate page.
Delete Member
If you have administrative rights in the system you can delete membership accounts using this link