Retired Documentation: You are using the documentation for version 1.7.3 which was retired in 2013. Go here for the latest version documentation or check here for your available upgrades to the latest version.
Quick Start Tutorial - Step 6
Publishing Content to Your Weblog
The Goal: Learn how to publish an entry to a specific Weblog.
Publishing Content to Your Weblog
Publishing to your new Weblog is easy. First, click on the Publish tab in your Control Panel. A dropdown list of your Weblogs will appear automatically (you can change this behavior). Select your newly created Getting Started Tutorial Weblog as shown below.

This brings you to the Publish screen, shown below. The Publish screen allows you to do just that: Publish. Let's publish an entry.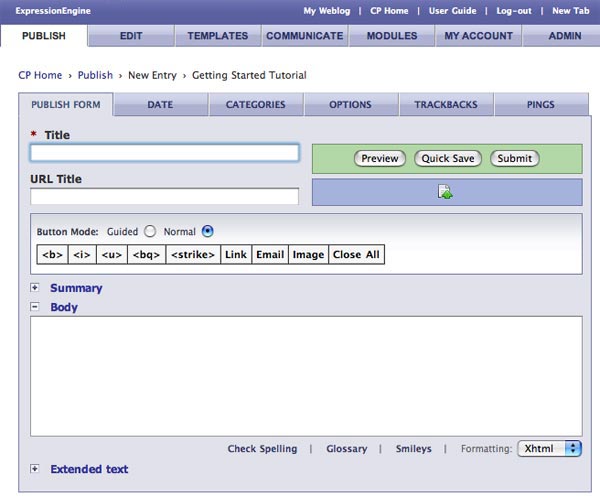 Add the following information to the fields of the Publish screen.
Title: This is My First Entry
URL title: Type nothing here - this is filled in automatically when you fill out the Title field.
Summary (click the "+" to open the Summary field): This is the Summary field.
Body: This is the Body field.
Extended (click the "+" to open the Extended field): This is the Extended field.
Your Publish screen should look similiar to the screen shot below. Now click "Submit" to publish this information to the EE database.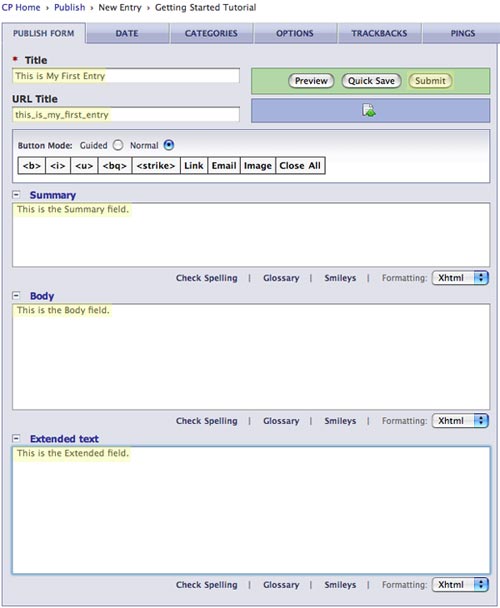 Clicking Submit brings you to the View Entry screen, as shown below. The View Entry screen shows you all the information you just published. You can also go back and Edit the entry from the View Entry screen.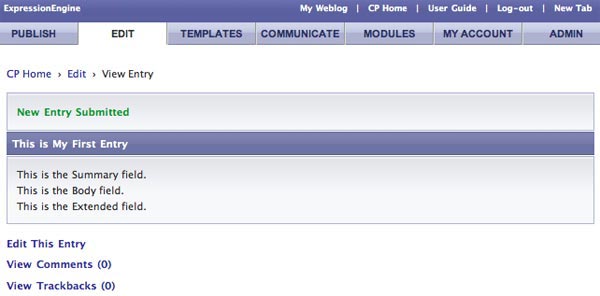 One entry is good, but you'll need a few more to complete the tutorial. Using the steps above, publish three additional entries to the Getting Started Tutorial Weblog. For the entry titles just change the word "first" to "second" and so on. After you've published three more entries, you'll be ready for the next step.