Retired Documentation: You are using the documentation for version 1.7.3 which was retired in 2013. Go here for the latest version documentation or check here for your available upgrades to the latest version.
Multiple Site Manager
Manage multiple Sites from a single installation
Note: The Multiple Site Manager does not alter the ExpressionEngine License. The license holder must be the owner of all Sites on a single installation.
One Installation, Multiple Websites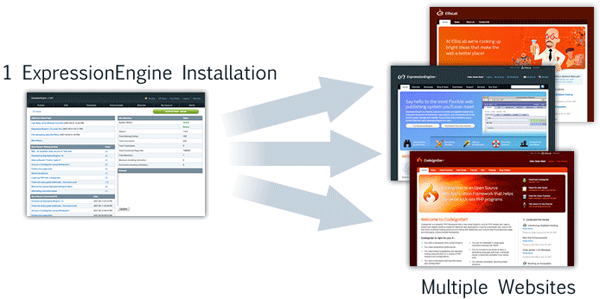 The Multiple Site Manager empowers you to create and manage multiple "websites" (Sites) from a single ExpressionEngine installation. These Sites can use your existing domain, sub-domains, a brand new domain, or a combination of the above. Each Site is has its own set of preferences, templates, and weblogs. This lets you leverage a single ExpressionEngine installation across multiple internet properties.
Key Features
Multiple Sites from a single installation
Multiple Forums from a single installation (requires Discussion Forums 2.0)
Member Database is "installation wide"
Shared Member Groups across Sites
Member Groups can have per Site preferences.
Weblogs and Templates can be accessed across Sites
Intuitively organized Control Panel
Independent Preferences per site
Specialty Templates per Site (Login screens, member profiles, etc...)
Modules are Site Agnostic so any Site can use any Module.
Requirements
ExpressionEngine 1.6 or later
All Sites must reside on the same server
If using sub-domains or domains, directories must be able to access your main installation system directory. Please see Setup Domains and Sub-domains for more information.
License holder must be the owner of all Sites
Table of Contents